ISI
contact:

Dr. Martin Schnaiter

project group:

Paul Vochezer, Dr. Martin Schnaiter, Dr. Ahmed Abdelmonem, Dr. Claudia Linke (IMK-AAF)

Dr. Ernest Weingartner, Piotr Kupiszewski (Paul Scherrer Institute, Switzerland)

funding:

DFG/SNSF

Partner:

MeteoSwiss, Physikalisch-Meteorologisches Observatorium Davos

startdate:

01.01.2012

enddate:

31.12.2014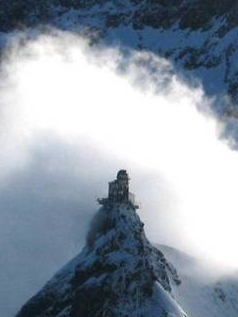 This project is funded by the German Research Foundation (DFG) and the Swiss National Science Foundation (SNSF).
Main goals of the project are
analysis of the physical and chemical properties of aerosol particles that initialize the ice particle formation in mixed-phase clouds


characterization of the microphysical and light scattering properties of the formed ice particles
These goals are adressed by using a new Ice Selective Inlet (ISI) for the extraction of ice particles from natural mixed-phase clouds during several month in the cold season at the High Altitude Research Station Jungfraujoch (3568 m a.s.l). The ISI will be developed by the Paul Scherrer Institute in Switzerland (details of this project part can be found here).
IMK-AAF will characterize the ice particle fraction and its angular light scattering properties by deploying the in situ single cloud particle probes SID-3 and PHIPS in mixed-phase clouds that are in frequent contact with the Jungfraujoch station during the winter season. IMK-AAF will also integrate the novel Particle Phase Discriminator (PPD2) into the ISI inlet in order to perform a detailed analysis of the microphysical properties of the ice particles like habit and surface roughness properties.