Atmospheric Aerosol Research (IMK-AAF)
KIT distinguished senior fellow Dr. Karl-Friedrich Ziegahn is a new member of IMK-AAF
With effect from Oct. 1 2020, the KIT Excecutive Board has appointed the retired former head of KIT Divison IV, Dr.-Ing. Karl-Friedrich Ziegahn as a KIT Distinguished Senior Fellow.
Dr. Ziegahn has selected IMK-AAF as his institutional host. We congratulate him on this distinction and are honored to welcome him as a member of the institute. With his expertise and network, he will be a valuable asset for our future development.
Advanced Meteorological Practical Course at AIDA selected for funding through KIT "University of Excellence" project
The KIT University of Excellence project "Research Infrastructure in Research-Oriented Teaching" (RI-RO) supports the integration of the large KIT research infrastructures into teaching activities.
more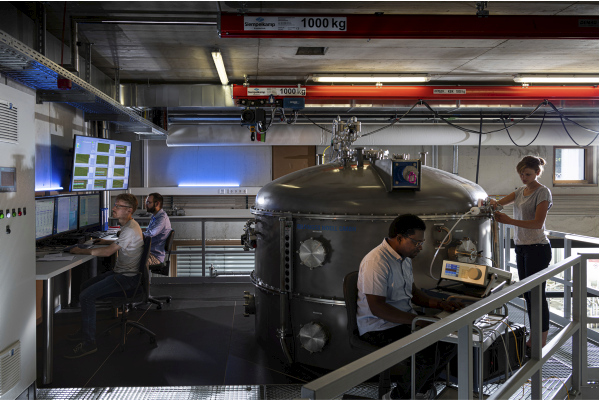 First ice nucleation experiments with the new dynamic cloud chamber AIDAd
Based on more than 20 years of experience in operating the AIDA facility as a cloud simulation chamber, we have developed and started to operate the new dynamic cloud chamber AIDAd.
more
New DFG project in Atmospheric Surface Science
In August 2020, Dr. Abdelmonem received his prestigious "own position" grant from the DFG for the third time in a row. The project will tackle atmospheric surface chemistry on the molecular level using NLO spectroscopy. Project start date: 01.01.2021
more
MOSES campaign in a pine forest stressed by draught and bark beetle
German pine forests suffer from recent dry years which results in modified VOC and particle emissions.
more
6th Staubtag Meeting
On November 18 and 19, 2019, scientists from different fields of research on the subject of mineral dust came together for the 6th time now.
more