<![if !vml]>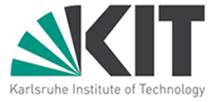 <![endif]><![if !vml]>

<![endif]>                                                                                 

                         

AIDA SOA09 campaign

November 2nd – 27th, 2009, Karlsruhe, Germany

Local Organiser:

<![if !vml]>

<![endif]><![if !mso]>

<![endif]>

Support by the EU project EUROCHAMP 2 is gratefully acknowledged.

<![if !mso]>

<![endif]><![if !mso & !vml]> <![endif]><![if !vml]>

<![endif]>Harald Saathoff (IMK, Karlsruhe)

<![if !vml]>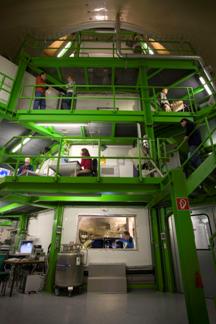 <![endif]><![if !vml]> <![endif]>
Participants of the SOA09 campaign and instrumentation provided by different groups:
Participant

Institute

Instruments

Astrid Kiendler-Scharr,

Torsten Hohaus,

Risto Taipale,

Thomas F. Mentel,

Ralf Tillmann

Bettina Steitz

Research Centre Jülich

Isotope resolved analysis of filter and gas samples

Aerosol Collection Module

PTR-MS

Mattias Hallquist,

Kent Salo

University of Gothenburg

VTDMA

Thorsten Hoffmann,

Lars Müller,

Alexander Vogel,

Mathias Schott

University of Mainz

On-line APCI-MS and

LC-ESI-MS of filter samples

Yoshi Iinuma

IfT Leipzig

Chemical analysis of filter samples including derivatisation and non-derivatisation GC-MS

Stefan Benz,

Ottmar Möhler,

Karl-Heinz Naumann,

Harald Saathoff,

Martin Schnaiter,

Robert Wagner,

Caroline Oehm

KIT

FTIR, Ozone, Water-TDL, Light- Scattering, SMPS, DMPS, CPC's, IC analysis of filter samples, WELAS, SOA-Modelling, CCNC, W-TOF-AMS
Group photo November 2009:
<![if !vml]>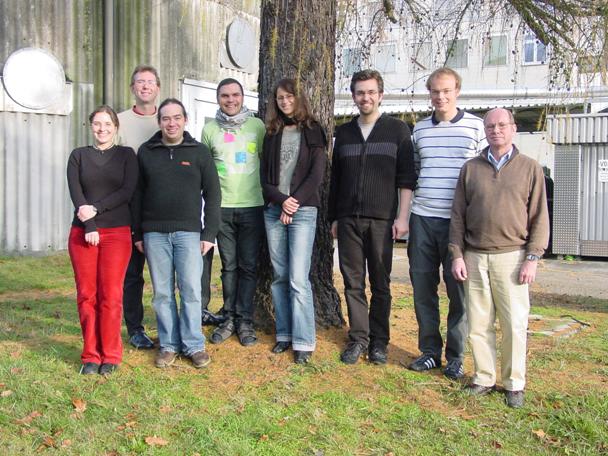 <![endif]>
Selected goals:
<![if !supportLists]>Ø <![endif]>The mechanistic aspects of the ozonolysis of a- and b-pinene will be addressed with highest priority.
<![if !supportLists]>Ø <![endif]>Determination of pinonaldehyde and nopinone partitioning into organic aerosol particles.
<![if !supportLists]>Ø <![endif]>Role of pinic and pinonic acid as precursors for tracer compounds.
<![if !supportLists]>Ø <![endif]>Temperature (303-243K) and aerosol concentrations will be varied.
More details can be found on the AIDA Wiki page: