IMK-AAF invites applications for a PhD Position (f/m) within the DFG-funded research project "Quantification of the secondary ice production mechanisms in mixed-phase clouds"
Reliable modeling of cloud processes for weather predictions and climate change projections requires a sound understanding of the ice formation in mixed-phase clouds. However, ice crystal concentrations measured in-situ are often found to exceed the concentration of ice nucleating particles by many orders of magnitude. This discrepancy motivates a search for Secondary Ice Production (SIP) mechanisms, i.e., processes producing additional ice particles by e.g. fragmentation of existing ice particles or during droplet freezing events.
In a DFG-funded collaborative project between the Leibniz-Institute for Tropospheric Research (TROPOS) in Leipzig and the Institute of Meteorology and Climate Research (IMK) of Karlsruhe Institute of Technology (KIT), we plan to investigate two potential SIP mechanisms: production of secondary ice particles caused by (A) droplet-ice collisions (rime-splintering) and (B) splintering of freezing droplets (see Figure 1). These two SIP mechanisms have been suggested to be of particular relevance in mixed-phase clouds.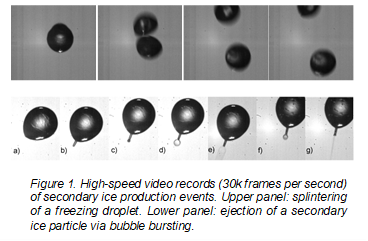 The Department of Atmospheric Aerosol Research at IMK seeks a highly motivated PhD student (f/m) to work on the experimental investigation of droplets splintering on freezing. The successful candidate will take part in the development of a new experimental set-up, the Ice Droplet splintEring and Fragmentation eXperiment (IDEFIX); together with the leading scientists at TROPOS will conduct experiments on identification of the physical mechanisms via high-speed video observations of the SIP events; and will contribute to parameterization development for both SIP mechanisms. These parameterizations will be applied by external collaborators for SIP representation in cloud microphysics resolving models.
Required qualifications are:
An M.Sc. degree or equivalent in physics, environmental physics, geophysics or meteorology.
Good technical and laboratory skills.
A strong interest to work in the field of cloud microphysics.
Good communication skills, fluent English language in writing and speaking.
If you are interested in joining our highly motivated team to perform cutting-edge research in a stimulating international working environment, please send a cover letter including a short statement about your research interests; a full CV including publication list; names and contact information for 2 references; copies of relevant certificates to Dr. Alexei Kiselev. Applications will be considered until the position is filled; the estimated project duration is 36 months. The position will be funded according to TV-L E13 at 75% full time equivalent.
KIT is an equal opportunity employer. Women are especially encouraged to apply. Applicants with disabilities will be preferentially considered if equally qualified.
Related references:
Field, P. R. et al., 2017: Secondary Ice Production: Current State of the Science and Recommendations for the Future. Meteorological Monographs, 58, 7.1-7.20, DOI: 10.1175/amsmonographs-d-16-0014.1.
Sullivan, S. C., C. Hoose, A. Kiselev, T. Leisner, and A. Nenes, 2018: Initiation of secondary ice production in clouds. Atmos. Chem. Phys., 18, 1593-1610, DOI: 10.5194/acp-18-1593-2018.
Lawson, R. P., S. Woods, and H. Morrison, 2015: The Microphysics of Ice and Precipitation Development in Tropical Cumulus Clouds. Journal of the Atmospheric Sciences, 72, 2429-2445, DOI: 10.1175/jas-d-14-0274.1